There are very different understandings of the way the aged care system is operating between the different groups that are interested, including the general public. This is at least in part because there is simply not enough reliable information available about what is happening in the sector. This fuels the perception that there is much that "they" don't want us to know.
It may be that government and the industry are simply blind to what is happening or that the multiple reports of poor care and disturbing cultures are exaggerated. But we don't have the information needed to resolve this. In fact, we have hardly any useful information. The information we get is so tainted by misrepresentation that we no longer believe it.
I have closely examined similar situations in health and aged care and in my view it is unlikely that the government and industry are correct. While there will always be some misunderstandings, I have never seen so much smoke without a large fire.
The sliders on this page: I could go back many more years but have only selected two examples in 2007. This shows that there were wide differences in viewpoint then. The other examples are more recent and the complaints are unchanged.
The section/slider 'The Age Well Campaign' explores different views of the 2012 Age Well Campaign that was based on the 2011 Productivity Commission Report.
The way in which the industry and government ignore and fail to address public exposure of issues as well as key community concerns is illustrated by a 2015 example.
In 2014, COTA promoted the government's inclusion of aged care in trade agreements with China. I contrast COTA's views of our aged care system with those of other senior's groups.
The recently rebadged Australian Aged Care Quality Agency's claim to steadily improving standards of care in Australian nursing homes over the years is contrasted with what others are saying about the system of accreditation of aged care homes.
The final slider is a selection of typical comments coming from the community.
I round off the page by looking at the key issue of staffing, which comes up repeatedly and where, unlike those countries where aged care research is done, there is no information to research in Australia.
Australian Aged Care: 'World Class' ... or is it?
We are confronted with claims to high standards and a world class system. Do we believe that or should we listen to what people who see what is happening are saying?
Australia: 'Setting the Global Standard' in aged care?
The wishful and illusionary thinking about aged care is reflected on the Australian Trade Commissions Austrade website. The claim to world class care is suggested in the title 'Setting the Global Standard for care'. It is just as well that the Chinese did not ask for actual data to substantiate that claim. That would be difficult to sustain when you consider the absence of data and the groundswell of critical comment.
Its all about seizing opportunities by selling their illusions to the Chinese.
The one thing that is clear is that this is all about impression management and making money. It has very little to do with how that is done - with actual care. With such financial enthusiasm companies will be promising investors vast profits. They will be going in there to make as much money as they can in order to fulfil their promises and their responsibility to their investors. At this stage, we can only ponder what the outcome for the elderly Chinese who swallow all this rhetoric will be.
Trifecta policy conundrum?
(A) Clamping down on rorting whilst simultaneously (B) promoting an 'excellent aged care system', (C) an 'export earner': In a December 2015 report in which the current minister claims she is clamping down on rorting to preserve the integrity of our excellent aged care system, this is what she said:
In September 2016 the Trade minister is helping our companies exploit the enormous opportunities:
Sacrificing the wellbeing of the aged to the economy
Ministers have made it clear that they plan to solve our economic woes by selling our services to others. To do so, Australia needs large consolidated market savvy profitable corporations. We wonder to what extent the economic needs of Australia are the driving force behind the government policy of marketising and consolidating our aged care system and making it economically efficient?
What actually happened is revealing. For both China and Australia, it was all about markets and competition. The potential consequences for the frail elderly were not on the table. Their needs were incidental to the needs of the economy.
Encouraging companies to take the plunge
I wonder if the big for-profits have reservations about this as none of them are mentioned in the reports. The articles below could be to encourage them and give them a push.
International Opportunities in India
An article the LASA periodical Fusion (Autumn 2015) describes the visit of the Trade Minister, Andrew Rob and a team of executives to India where Free Trade Agreements are commencing. The article indicates that "it was very important that Aged Care be a part of the conversation. We joined health - - - to meet with our Indian counterparts, to discuss shared issues and areas of potential collaboration". "Indian businesses are interested in partnerships, joint ventures and investment opportunities in Australia" and for those interested in the Indian market "there has never been a better time to engage".
The article looks at the ageing of the Indian population and then drills down to look at the commercial opportunities in the middle class but particularly among the wealthy. The article goes on to list "a range of opportunities for Australian businesses and organisations". It seems that UK and US companies are already operating there.
And in China too
And in 2016 the Australian government agency Austrade is advising that "those interested in entering the 'complex market' should go in early". It urges "providers to find the right partner in China and enter the market with a long-term plan". It is interesting that it is a faith based not-for-profit that is the public face of this in the linked article. But the deal is to train Chinese by an "advanced aged care professional skill training and work placement program" to be delivered in its Australian hospitals. Another not-for-profit NFPCompanyß has partnered with a Chines organisation in 2014 to actually provide home care services in China. We are left wondering if any for-profits are planning to enter the country and compete with UK and other multinationals in providing services locally.
Industry vs aged care critics
Like most of those who look at what is happening and become alarmed at what they see, it was the death of her father from an infected pressure sore, which should never have occurred that prompted Lynda Saltarelli to look at what was happening in nursing homes. She then researched and talked to others. What she found led her to found The Aged Care Crisis centre.
Failures in aged care
She wrote a carefully researched article which was published in The Age in November 2007. As revealed in the article, she spoke to many others and heard what was happening first hand. No one could seriously have questioned her integrity and you would have thought that the bodies representing the industry would want to talk to her and then go out and verify it.
Lynda was saying in 2007 things that critics had been saying for some years and they are still saying it 8 years later. A vast amount of information now substantiates the serious concerns.
Industry denies failures in care
The only response Lynda got from the industry was a comment from ACSA CEO claiming she had missed the point. Decide who actually missed the point:
I think that it was Mxxxx who had missed the point, or more probably, was simply not prepared to look at it. Everything that Saltarelli said in that letter still applies today, and has been complained about over and over again. If our system was so robust, then it would be collecting the information needed by residents and also by those assessing the performance of the system in order to respond when making policy.
I will show on other pages that ACSA has continued to deny. It tries to ignore what its critics say and when they are insistent, ACSA has attacked their character in order to avoid addressing the issues.
What is more, the "robust accreditation and complaints system" is considered to be a farce by those who experience it. No one is happy with it - yet the industry continues to make these ridiculous claims about its efficacy. This is intolerable and as a community we have to stop it and take control ourselves.
We have learned from Aboriginal Health that there is no point in throwing money at something that is not working. Money may be a major problem, but you need to first have a system that works for those it is intended to serve. Money thrown at the current system may help companies to grow and to list on the sharemarket, but it won't go to staffing and it won't help residents until it is profitable to do so.
Here are some more examples of industry response to criticism
Critical TV programs: Channel Seven's Today Tonight published a program "Nursing home shame" describing 'neglect at epidemic levels' in Australia's residential aged care sector, including poor quality food and widespread malnutrition."
As the industry were well aware, this was only one of many ongoing allegations about poor care, food and malnutrition and there is much to indicate that it is widespread. Those allegations are ongoing and recurrent. Mxxxx by now, CEO of the industry body LASA, responded and Prof Jxxx Kxxxx from ACSA joined in:
Assaults: In an article "Aged-care assaults increase" in the Sydney Morning Herald those who had been listening to families and staff questioned how effectively "nursing homes were being monitored given the volume of complaints - - -If the facilities are so fantastic, why are so many people complaining and why are there so many reports of abuse? - - - Nearly 70 per cent of aged care complaints impact directly on the health, wellbeing and human rights of residents in aged care, - -"
Problems in Queensland in 2015: This is the response of the industry to serious allegations about care in a Queensland not-for-profit in early 2015. The Quality Agency claimed that it had found problems in a majority of the groups homes. The group strongly denied and challenged these assessments. It took the Quality Agency to court and showed that it had been unfairly treated. It then claimed it had been completely vindicated.
In addition to these allegations, there were allegations from nurses who had worked in the system claiming that the problems were widespread and consequent on the commercial focus of providers.
Response to a growing number of allegations: For 19 years the industry has been hiding behind a fatally flawed oversight system. Instead of confronting its inadequacy, it has been hiding behind it and denying the obvious.
These responses are so forceful and so indignant, that there seems little doubt that these people and the bodies they represent are sincere, genuinely believe - and are furious about anyone reporting information that they consider false. They don't see it the way we do.
To critics, it seems incredible that these people who, as they see it, have so little grasp of what is happpening in the the sector are promoted and have stellar careers. Worse still, they are being put in positions where they are responsible for dealing with those who are unhappy with the system. Mxxxx went from being CEO of ACSA and then LASA to representing Senior Victorians as Commissioner - a case of putting the fox in charge of the henhouse - and so keeping it in the family.
I am not questioning Mxxxx's committment or belief in what he is doing, but belief is not a measure of aptitude or suitability. Surely, someone would ask whether the attitude he adopts when confronting critics, would qualify him for this post. How will be respond to seniors who are critical of aged care?
Understandably, critics of the system see these people as malign and the system as corrupt and self serving. Mxxxx's appointment would be seen by many as a strategy to head off criticism.
It is only when we look around and see how often this sort of thing happens, and get close enough to them, that you realise they are genuine and actually believe in what they are doing. Coming to grips with that and trying to understand why and how this happens is more complex.
The industry lets the cat out of the bag
The industry and government have been praising the accreditation system and its claimed role in giving us a 'world class' system for 19 years. It is interesting that one of the big providers has decided to bag it. The CEO of one of the largest for-profit advisers has admitted that it is not working and is about the minimum possible and not about quality at all. In doing so, he confirms that they have been deceiving us about this for years.
The CEO is using it as a justification for the mantra of choices and more services - to get more money from individuals without any checks or balances. The government has now cracked down on financial rorting. The industry now turning to vulnerable seniors and creating opportunitries for more money.
The CEO went on to explain that "Australians were used to accepting the minimum acceptable standard and were struggling with the concept of having choice and paying for extras".
Admitting they have all been lying to us
So, is this CEO and his company now being a whistleblower, a rat dobbing on his mates and betraying the rest of the industry and the government that has supported them. It certainly looks like it. But perhaps it is not intentional at all. Perhaps they have all been deceiving themselves for years.
In the previous section Cultural Perspectives on the page Culturopathy: A for-profit example I explained how in a culturopathy, believers avoid the intense discomfort created (called dissonance) by contradictions in what they are expected to believe, say and do. They cope with this by putting conflicting ideas into separate compartments, each with its own internal logic, and don't confront the contradictions between them. I also explained how they lie to themselves.
It all becomes a game using words as tokens. They are simply part of the game and no longer attached to anything real and without emotional content. They pull out the bits that they need for the next move in the game - in this instance they need more money from a gullible public. I suspect that this CEO is totally unaware that he is contradicting himself and betraying his colleagues. All that is in another compartment so he does not see the incompatibility.
Another example: A founding director of the company Tenet/NME that I used as my example of a typical culturopathy did the same thing regularly. He was later confronted in a court case with the contradictory statements he made in Australia. He explained that he was simply "singing to the choir". He saw nothing wrong with this. This was legitimate in his world. He was simply playing with words.
This is a good example of how people lie to themselves even when they know what they are doing (called bad faith). They have insight intermittently but don't use it. Its a strange phenomenon and not easy to come to grips with. I think this is what is happening here.
The proposed Community Aged Care Hub
It is difficult to believe that the two sides of this debate are talking about the same aged care system and are living in the same world. The problem I believe is that they do live in very different conceptual worlds and that those in these different worlds don't see the same things. In addition to that, the frameworks for discussion that you need for debate are not there.
As is revealed in the extracts above, they talk past each other and don't see or hear the arguments. It is usually the more dominant group that does not hear what it does not want to hear. That is a central characteristic of what I have called a culturopathy.
Human behaviour: They are behaving like all humans do when they interact with the system from different contexts. One group is from management or talks to managers. The other is either involved or is talking to people who are in regular day to day contact and discussion over what is happening at the bedside. They are all looking at the real world but each from very different positions so do not see the same things. You can only see what is visible from where you are standing and when you cannot see something that the person next to you can see you don't believe them. This is not a unique problem, it occurs in many social situations, particularly those that are dysfunctional.
This may not be easy to accept or to understand. Until we learn to see the world through the eyes of others we all tend to see what we expect to see and want to see. It is only when people communicate directly in the processes of life and have to deal with issues together that we learn to see through the eyes of others and through their minds. We come to see what they see.
The proposed hub requires participants to engage and learn to see through the eyes of others. It is what the hub is directed to achieving.
The other factor here is the power and information imbalance. This is a problem to be overcome. The more powerful automatically set the frames of discussion in any conversation. It is the frames of discussion that shut out alternative insights and arguments or make them illegitimate. Simply inviting discussion with the community and creating a forum to do so as ACSA is trying to do is not always productive. Too often people are unhappy but have not formulated their concerns so the responses are disjointed and the dominant group is not impressed.
Community debate: The community itself needs to get together, analyse its experiences and structure its ideas and understandings so that they can express and argue them logically. Until they do that they will be at a disadvantage and remain relatively powerless. Their unstructured views will be difficult to argue and be easily discredited.
This is why the community needs its own forum to debate and formulate ideas. It needs to examine what the industry is doing and saying on its own terms and bring that alternate perspective to the debate. It takes time and effort to develop.
It may be very obvious that something is dysfunctional, but it is very difficult to confront and challenge a belief system from within that system because each belief system contains its own logic and that logic justifies and protects it. Different outside perspectives are needed to illuminate the flaws, inconsistencies and failures. The utility of the original belief system can then be recognised, its problems identified and circumvented - or a better system adopted. This web page comes at the problems in aged care from different perspectives and I think it exposes the failures and the reasons for failure.
This is why randomly meeting ACSA's invitation to discuss will have limited benefit and why I am trying to initiate a separate discussion on the Aged Care Crisis website. So we should contribute to the industry's discussion and we should invite them to contribute to ours. Both sides will then be looking at the other's point of views and their structured arguments.
A written discussion at this time avoids the pressure from dominant and assertive personalities and ensures that debate is considered, factual and logical. Once key differences are clearly defined, then actual face to face discussions become more useful.
Hopefully we can move towards a situation when we can look at ourselves through the eyes of our critics and see differently. We can see the strengths of their arguments and illogical assertions will not be credible. Denying allegations without good reason and attacking the messenger would become very counterproductive and ineffective.
The proposed Hub: That is also why the Community Aged Care Hub needs to be a separate organisation to those providing services in the marketplace. It needs standing and legitimacy as well as its own central organisation and role. But it should be closely involved in the nursing homes and have a definite important role there so that it develops the knowledge and the judgement needed to act for the community. That interdependence ensures that each side must confront and address the concerns and point of view of the other and come to respect it.
Government vs Aged Care critics
As indicated, the response of the industry and of politicians has often been to point to the stellar performance across the board in accreditation ratings and claim that Australia has a 'world class' system. They have doing this since 1997 and are still saying it in the face of evidence 19 years later.
If you say it loudly and often enough, then the words become the meaning and anyone who suggests that they don't represent this selfevident situation is not credible.
2016: 'World class' system? Not really
The irony of this claim is that the example from her electorate that she used to illustrate her point had failed 9 accreditation standards only 4 months before and was at the time being supervised by her government's Quality Agency.
Another from her electorate that she praised in parliament in 2015, also had problems with accreditation, was at the time under investigation because of serious allegations and its board was about to be suspended because of the findings.
2006-07: Claiming failures in care are 'rare exceptions'
Politicians like John Howard claimed that confronting scandals (eg rapes) are rare exceptions in an otherwise exceptional service and not red flags to a wider malaise. This is plainly self-serving nonsense and a betrayal of their responsibility to the public. I suspect they actually believe it.
The Howard government in 2007 had been aggressively pursuing their marketplace solutions for aged care and talking up the Australian aged care system after the 2006 rape scandal claiming that these were isolated instances and downplaying any suggestion that they were red flags.
Aged Care Crisis (ACC) were getting feedback on what was happening in the system. They made a submission in this regard and were interviewed by the Senate Standing Committee on legal and constitutional affairs. What they were seeing differed radically from what was being said by government. While the interview with the committee was wide ranging and you can link to it, part of the focus was on staffing and on the mandated staffing levels that ACC wanted. Below are extracts from ACC members' comments to the committee in reply to questions.
We can look back on that interview and look to see where aged care has gone since as revealed on this website. In 2007 ACC were talking about 79% of costs going to staffing. FPCompanyG listed in late 2014. Its first report to the market on 20th February 2015, a few months after it listed, was reported in The Age.
FPCompanyG boasts that it has decreased its staff costs from 63.5% a few months ago to 60.5%. That would include all their staff not just nursing care. At the same time it has increased the number of high care residents - who presumably (by 'improving efficiency') don't need as many staff to care for them! Once you believe and have no doubts, then everything else that suits you becomes believable.
The Age Well Campaign
NACA (National Aged Care Alliance) working with the seniors group COTA, recruited a large number of providers to promote its Age Well Campaign in glowing terms with many jumping on the band wagon and talking it up. Many of us were very skeptical because it came from NACA and instead of being debated and discussed, was marketed aggressively.
Contrasting views about the 'Age Well Campaign'
What sort of ridiculous person could challenge what is here, when it is presented so encouragingly by NACA members including COTA's Ixxx Yxxxxx who was speaking for seniors like me to the National Press Club in a program called The aged care time bomb is ticking, and so proudly supported by large numbers of major organisations including the not-for-profits. It was a marketing exercise and not the discussion that was needed.
In our submissions to the PC, we had stressed the elderly's vulnerability in the marketplace. We saw this as simply a strategy to further progress government's plans to corporatise the marketplace without alarming us and so give the big corporations more profit at our expense, without providing us with any transparency as to where our money was going.
It's the way money is being collected, the way it is being spent, the hyperbole and the bogus marketing to get it past the public that is so concerning.
The Combined Pensioners & Superannuants Association (CPSA) which represents all the Australian battlers who would be selling their homes, an enormous emotional wrench for the people who would suffer most, was particularly critical. It had refused to be bound by NACA's gagging clause and had resigned from the group. CPSA felt there were better and fairer options. They attacked the NACA process and indicated:
Government and LASA ignore disturbing allegations
On the 16th of February 2015, The Australian newspaper started publishing a series of startling allegations about care in a nursing home in Bundaberg including that it had planned and executed a cover up. Management flatly denied much of this. Whistleblowers and The Australian were threatened by lawyers.
One of the management team from the nursing home, was so disgusted by this that on the 21st February he spoke up and claimed that management had carefully planned a cover up strategy. Nurses were writing letters to the press telling them that what was disclosed was also occurring in other facilities in the region. This sorry story is analysed on another page.
Turning a blind eye to reports of failures in aged care
At the same time, Txxxxx Cxxx from LASA, the body claiming to represent both for-profit and not for profit aged care providers was speaking to a LASA meeting in Victoria a week later.
While the industry boosts its image and talks up the challenges for the future in order to get more money (without accountability), it is blind to the crisis that it is really facing - a crisis of care and the perception that this is because they are funnelling money off to fuel their marketplace strategies.
The allegations about the facility in Bundaberg were not mentioned in the report that the community read above. They never talk about things like this.
On the same day, 23 Feb 2015, Linda Mottram was interviewing Senator Fifield on 702 ABC Sydney's morning program. She drew attention to the allegations of neglect and abuse in the Bundaberg nursing home. After that she played back concerns expressed by Lynda Saltarelli from Aged Care Crisis (ACC) in an interview the day before. She was talking about the consequences of understaffing and deskilling, and how market pressures were reducing staff. She expressed once again ACC's concern that there were no mandatory staffing levels of any sort.
As you will see if you visit the linked page, Mottram pressed and pressed and the minister weaved and weaved without answering her questions. I think that Mottram was good - but she missed a crucial opportunity to switch to the failure of any requirement that facilities actually disclose what their numbers and their skill levels are at any particular time. At least other countries disclose their staffing levels and make an attempt to look at this.
Staffing levels and even more importantly the number of trained nurses is an issue that industry and politicians avoid addressing at any cost. In spite of the rhetoric, both show themselves, by their actions or lack of them, to be far more focussed on costs than on care. They will not discuss this issue openly with the public who are concerned about care and this is because their position is not sustainable.
Seniors vs other seniors and geriatricians
A press report on Channel 9 on 14 Nov 2014 described progress in the proposed trade agreement under negotiation between Australia and China. They claimed that aged care and health would be among the sectors to benefit most - boasting that it would "create future wealth for Australia". Interestingly, it was not the minister or an industry representative, but Ixxx Yxxxxx from COTA, a seniors community organisation, who told citizens about Australia's aged care expertise and the opportunities.
COTA is the organisation claiming to represent seniors that cooperates with the industry on the National Aged Care Alliance (NACA). COTA, with many fewer members than National Seniors, works closely with government and is involved in supporting and assisting in almost all of its aged care projects. It gets media coverage and government contracts to run activities.
A group representing pensioners is very critical portraying COTA as the government's 'lapdog'. The unhappiness and stand offs between groups representing older Australians and the problems in NACA, which caused other senior groups to withdraw, are examined on the later web page "Controlling information" in the "Keeping it all in the family" section. The contrasting views on this page are reflected within the senior's organisations themselves.
In this interview, the seniors spokesman is enthusiastically promoting the prospects for aged care providers in China and the governments success in achieving this. What this has to do with the seniors COTA claims to represent is not clear:
If you go looking, there is information for the industry.
Are we selling the Chinese a failed aged care solution?
Others, including the much larger seniors group National Seniors, pensioner organisations, doctors and academics have been highly critical of the system that our government is selling to China.
Accreditation: Making the industry look good - but others disagree
Here is another example expressing the views of the new Aged Care Quality Agency, which is really the old Aged Care Accreditation Agency, transferred to the federal Department of Social Services and then in October 2015 back to the Department of Health.
Is the Aged Care Accreditation process simply a marketing strategy?
Example: LASA is the body claiming to represent for-profit and not-for-profit aged care providers. The new Aged Care Quality Agency is doing the rounds of provider organisations reinforcing their, and politicians', perceptions of the improvements in care they have attained over the years. They are telling this LASA audience what they want to hear, so they will accept it uncritically. The figures below are from a presentation to LASA by the General Manager of Accreditation at the new Quality Agency. The CEO of the new Quality Agency was LASA's CEO a year ago.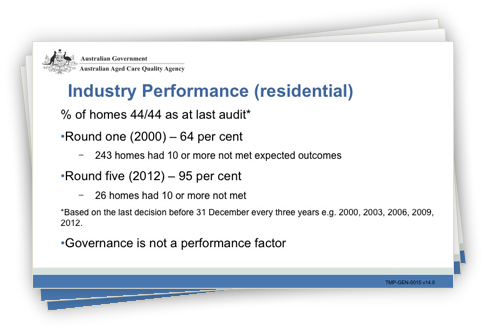 Source: General Manager, Ross Bushrod's (Accreditation Agency) presentation to LASA Queensland, May 2014 (Slide no. 13)
This is certainly not the impression that those of us who listen to the rumblings, and the ongoing adverse reports, get. We take note of what people who have experienced the system are saying and the assessments made by more objective organisations like universities. The Age reported on a study of staffing undertaken by academics in Victoria in 2009.
In 2011, another nurse academic at Latrobe University expressed her concerns about the adverse impact of the care provided by untrained staff since 1997 in nursing homes in Australia. She described the progression of aged care from the provision of care by untrained convicts in the early colonial days to trained nurses in the 19th and then 20th centuries - with a regression to untrained aids starting in 1997 just before the beginning of the 21st.
She indicates that "aged care is going backwards" and that "registered nurses are becoming 'a scarce commodity' in the aged care industry".
Criticism of accreditation in aged care
The accreditation results in Australia as revealed in departmental documents, in their reports and in their magazine have steadily improved over the years with the number meeting all 44 standards increasing from 64% in 2000 to 95% in 2012. But the figures they are reporting are deceptive.
They are not the total number who failed in the year, only the number who had not yet corrected problems and been re-accredited at the time the agency reported to government on 30th June each year.
When the figures were challenged in 2008 it turned out that 7% and not 1.8% of homes had actually not met all standards over the year. But that said, the rate of successfully meeting all standards has increased over the years. These findings contrasts with the information coming out of the community, various academic research and journals, and being published in the press.
The number per year or better still a bar graph representing the failures per year is the more usual and more accurate way of presenting figures and comparing them. In 2015 the Agency was still presenting its results to LASA in the same way.
These figures are the *three-yearly accreditation reviews, for which each home has months to prepare. They don't represent what happens for the remainder of the 3 years. Also, the Agency does not actually measure outcomes so there are reasons, other than improved standards of care, why the Agency's figures might have improved. These include that providers and their staff are now aware of what they need to say and do, so the process has become routinised.
*The Budget 2015 announced a raft of measures - including a reduction in audits (eg, site audits reduced from once every 3 years to five years) and plans to privatise provision of accreditation services, allowing providers to choose their own agency to accredit their facility.
The results don't reflect what is actually happening on a day-to-day basis, and because they don't look at the actual results of care and probably never have.
There have been recurrent allegations that the process has been "gamed", with providers bringing in teams with extra staff and equipment just prior to the accreditation inspections. There is no information to indicate how common "gaming" is. Documents released under freedom of information in December 2014 "show that almost one-in-five new nursing homes failed to meet quality standards last financial year". This undoubtedly reflects a learning curve but whether that is in improving standards, or learning how to game the system, is debatable.
Nutrition and accreditation: A thesis study of nutrition in aged care facilities from Monash University in 2013 shows that 64% of aged care participants were undernourished and this had significant adverse consequences for health, for quality of life and for mortality.
The study gave the reasons and found that accreditation standards had failed to address the problems. Nutritional status like other markers of real care are not measured in aged care. The argument critics make is that this finding is very probably representative of what happens with accreditation because it does not measure anything real.
A nutritionist doing a doctorate in Queensland was inspired to do this because of the malnourishment that she saw in Australian nursing homes.
External reviews of the Accreditation (Quality) Agency
An outside review of the accreditation process in 2002 identified the agencies failure to collect the sort of data that would allow it to assess its own effectiveness. It made a number of other criticisms that have been repeated over the years. The agency agreed to collect data but never did so. Instead it commissioned another organisation that embraced the same patterns of belief to review it and give it a pat on the back in 2007. This review agreed that it was 'not necessary' to monitor actual outcomes.
Another review was undertaken in 2009 to which submissions were invited. Many of us made submissions but if a report ever resulted from that, then it and the submissions were not made publicly available. Some of us wanted to see that overdue report before making final submissions to the 2010/11 Productivity Commission inquiry into aged care. We complained, but that did not help!
Perhaps we should let someone from the community say what they think of the care being provided in our nursing homes. This was the response on a comment page reporting on FPCompanyG's plan to float on the stock exchange. Obviously the person wanted the view known. I have taken the liberty of printing it here without the name. It's the sort of thing that is coming from those who see what is happening in the nursing homes. The accreditation agency does not see these things. Is that because it lives in a different world and just doesn't have the same view as the families.
Criticism of aged care over the years
There is an ongoing and steady flow of information coming from those who see what is actually happening and this contradicts what we are being told by the providers and by the agency responsible for monitoring standards of care.
The agency's conduct in its handling of data goes to its credibility as a regulator. Provider's willingness to hide information and fire those who disclose failures in care goes to their integrity.
What people are saying
There are some strong differences of opinion in the community about the direction in which governments are taking aged care. More importantly, they don't trust politicians and feel out of touch with what is happening because information is being concealed. They don't believe what they are being told, and are unable to contribute and have their voice heard.
The last 6 years: Here is some of what people have been saying over the last 6 years. They tell us where it is going wrong. In some instances I refer to reports that were mentioned on the page 19 years of care but in only a few have I quoted from them there. Any links not given here are on that page.
2009: Acting Secretary of the Victorian branch of the ANF, Yvonne Chaperon, said the results proved there was a crisis in aged care:
2010: In May there were accounts of poor care and neglect uncovered by an undercover journalist in homes owned by two of our major providers of care. Then it emerged that these companies had problems in multiple other facilities and in one case globally. In all of these instances it was about staffing and management. There is more about this on 19 years of care.
Mxxxxxl O'Xxxxl from National Seniors was clearly aware of the problems that the members of his organisation were facing. National Seniors commissioned Access Economics to report. O'Xxxxl's comments based on that report tell us what was happening and the number of media he spoke to tell us of his concern:
Joanne Bryant, an enrolled nurse in her submission to the Productivity Commission, described her experiences returning to nursing in aged care after 17 years as "like being transported to another planet", and being horrified at the lack of staff.
2011: In 2011 we had the Quakers Hill fire which revealed the type of person that some nursing homes were employing and the way warnings by staff were ignored. I dealt with this on the "19 years of care" web page.
2012: On the 7th September 2012, Glen Rees CEO of Alzheimer's Australia wrote to Lynda O'Grady about the findings of their report Consumer Engagement in the Aged Care Reform Process, which looked at the stories of over 1,000 consumers who attended consultations. They found:
Rees went on to refer to the "increasing concern about the inappropriate use of antipsychotic medication" . He pointed to the recent Lateline program about medication "to get a sense of the frustration that consumers feel with the quality of residential care". This he indicated, was only one "example of the poor quality of care individuals with dementia are receiving as a result of services in which staff are not adequately trained, supported or resourced to provide quality dementia care including responding appropriately to behavioural and psychological symptoms of dementia".
2013: By 2013 any improvements after the 2010 disclosures had gone. There were a whole series of disclosures of poor care and failures in oversight on Lateline, in The Age and in Womens' Weekly. There are links to all these on the page "19 years of care" The comments below suggest that care was particularly bad in Canberra.
A Study by University of NSW: The Aged Care Funding Instrument (ACFI) was intended as a means of linking funding to better care of residents, including demented patients by measuring quality and so improving care. As the article below indicted "one of the most pressing issues that the Australian Government and the aged care industry face: that is having a reliable regular assessment mechanism for ensuring the provision of quality residential aged care services."
Many of us think that has been a glaringly obvious problem that no one has wanted to look at for the last 19 years so it is encouraging that someone else is saying it.
The report of a study done for the government by researchers at the University of NSW looking at this issue was released in January 2013. It is of interest, not because it showed that this instrument had resulted only in a slight improvement, but because of the reasons for that and what it revealed about the care that was being provided and the attitudes of staff.
One of the main things the study assessed was the care plans for residents with dementia. They found there was a "culture of poor care planning practice". "Overall care plan quality remained low, with none of the care plans fully addressing residents' care needs associated with BPSD" (behavioural and psychological symptoms of dementia) following the intervention.
"Care plan quality remained low with between 31% and 65% of care plans still not addressing current behaviours" and "the care needs of residents with BPSD are not well assessed and documented in care plans" There was little evidence that the policies adopted by facilities "were put into practice".
These comments are based on the Summary of the report and on an article published in the Internet Journal of Psychiatry Volume 3 Number 1
2014: In September 2014 there was the very revealing and confronting ABC program Death in a five star nursing home that I wrote about on the web page "19 years of care". Then another report from Canberra.
In an excellent article, a professor of nursing describes the many problems and the parlous state of many of our aged care facilities. She is particularly critical of the lack of interdisciplinary staffing and collaboration and she compared this with Holland where care was very different.
There are many critical comments to the article and many nurses do not agree with her solution. Although neither the author not the critics mention it, my assessment of this article and the comments, is that underlying all this is a working environment whose ethos does not attract either nurses or other professionals. Its an environment where they don't feel welcome or that they are making a useful contribution or can make a difference. In my view that is an issue that too often relates to the commercial way the nursing homes are managed and the culture that results.
2015: And 2015 did not get off to a good start either.
The feedback group Care Opinion Australia is also critical about what is happening and this is a response to the exposures of issues in NFPCompanyE's Queensland nursing homes.
The complaints about food continue and this is confirmed by repeated studies. But food costs money and when reducing costs is a major objective, then food is going to be the first target - especially when the people eating it are not in a position to complain. It is accepted that there are "high rates of malnutrition".
Someone commenting on an article on Australian Ageing Agenda:
The allegation by a nurse writing to a newspaper after serious allegations in Queensland homes including about continence management is revealing. She claimed that the problems found were widespread in Queensland homes.
A nurse commenting on a letter to the press by another nurse:
A mother describing what she saw and the problems she had when she was forced to put her disabled daughter into a nursing home:
A nurse giving evidence to a Coroners Inquest into the death of a resident whom no one had checked on:
2016: On the Scandal after Scandal web page there is a list of 34 articles, between January the end of July 2016, complaining about large profits and poor care, assaults, malnutrition, medication failures, staffing issues, dental care and much more. It seems to get worse as the years go by.
And then there are these are comments from nurses who spoke out about a nursing home in Queensland:
The key problems that emerges over and over again, year after year, from resident's families, from whistleblowers and from investigations are:
nursing care - not enough staff (particularly well trained staff), a mal-distribution of skills, diversion of care staff to administrative work instead of nursing, that the nurses are not adequately trained for the tasks they undertake, and that they lack the motivation required to engage with the processes.
a culture in management - that is prepared to tolerate poor care, to deny that it is poor, to find excuses and justifications for failures instead of addressing them, that disregards and belittles the residents and their families and pursues anyone who tries to speak out. Feedback and criticism is seen as a threat.
Contrasting solutions
Some have a very different approach to the way social services including aged care should be provided.
Different views about government and the market
On this and related web pages, I have given multiple quotes and examples of government and industry thinking. These illustrate the determination to use markets as the medium for providing aged care. The response to failures has been to resort to more regulations and to ever more complex processes in an attempt to make this work.
This was the response to the attempts by government to stop the excessive fees to individuals that were boosting profits and the rorting of taxpayer funding for the market. These are the consequences of providing public services through the free market and in vulnerable sectors.
It also illustrates the extent to which ACSA, the organisation representing not-for-profits has identified with and uncritically accepted the market solution to the problems of ageing. It shows a government reacting to the consequences of its own policies. The thinking is deeply embedded and goes unchallenged.
Another problem is that citizens expect government to fix problems and don't see that they have any role in this. Yet every time government looks the other way or trusts the industry, they betray that trust and exploit any loopholes they can find in the system. My argument is that government alone does not have the capacity to deal with the problems created by competitive markets in vulnerable sectors.
The UK has been down this path. Not only has the market failed to provide the vulnerable with a reasonable quality of life, but government's attempts to regulate and set up structures and processes for providing care have often compounded the problems.
A number of thinkers and researchers have been looking at this and have come to look at a very different way forward. They see lives as lived social experiences and place these social interactions and relationships at the centre of their thinking. They look at the manner in which markets and governments currently both impede rather than support this. They have persuaded the UK government to have an inquiry to look at these issues. I give some quotes and links here, but there is extensive literature:
The proposed Community Aged Care Hub in intended to put community at the centre of aged care and in control. It creates a context within which we can support the "strengthening of the human relationships of love, acceptance and respect" and to channel funding, markets and government support to meet those objectives. Rather than futile attempts to regulate, it will use social pressures, trust and relationships to guide the system. Regulatory effort would be a fallback position but because it would start at the bedside, it would be effective.
And in hospitals too
Ageism in hospitals: Karen Hitchcock in her interview on 7.30 report on 12 Mar 2015 and in her Quarterly Essay Dear Life - on caring for the elderly in the March 2015 edition, describes the ageism in our hospitals, an ageism which leads older people to consider themselves as a burden on society. The term 'Bedblockers' expresses this well and experts have been critical of its use. The aged are clearly a nuisance in many hospitals.
Example: Exxx Rxxx a retired doctor and a blind nursing home resident was sent to hospital in pain with a fractured spine. She developed diarrhoea and was difficult to nurse. The hostel refused to have her back because they did not have the staff to care for her. An eviction order was read out to her publicly in the ward (she was also partly blind) and she was returned to the hostel. They were unable to cope with her care and her GP had to arrange to admit her to another hospital where she died.
There was strong criticism of this and the hospital apologised, but the manner in which a formal eviction order was served and then publicly read out in a crowded ward illustrates the administration's pattern of thinking and the pressures being put on staff.
Its clearly not unusual for the elderly to be ejected from hospitals. Beth Wilson writing about this for the Medical Observer commented:
When it happens in the country, there are additional consequences for those who should be helped. In the example linked to below, a long time resident of a country town was sent off to a nursing home in a distant town instead of being allowed to stay until a bed became available. Locals tried to rescue him but he died alone away from family and friends.
This problem is so common and the consequences for the elderly so distressing, that those country health professionals recently converged on Canberra to lobby for relief.
Staffing numbers and skills
What has been done to staffing in nursing homes is a constant theme and emerges over and over again in complaints by residents, by staff and by critics who have examined the system.
There is a large amount of international literature linking staffing directly to standards of care. But in Australia, there is no literature because nobody knows how many staff there are in nursing homes. If it is known then, like so many other aspects of the system, we are all being kept in the dark. We can only surmise that there is something to hide.
It is clear that some nursing homes exploit this loophole in our regulations and the poor standard of oversight provided. There are some that have no staff at all for long periods of time.
Anyone who knows anything about care has known the critical role that adequate staffing plays - for at least 19 years and realise that it has been a key problem in the sector.